平面设计 → 平面资讯 → 正文
2010年第四届秘鲁YAKU国际海报展征集作品
作者: 许力 来源: 视觉同盟专稿 时间: 2010年3月9日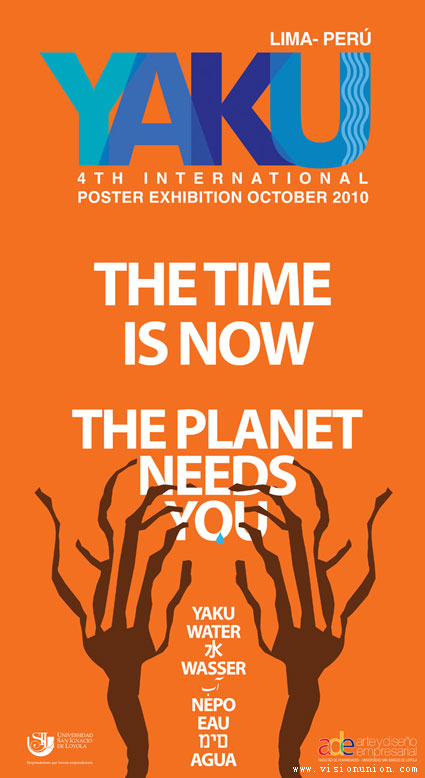 简介:
由于2009第三届秘鲁国际和平海报展成功举办,今年秘鲁首都——利马San Ignacio de Loyola University组委会将再次举办第四届YAKU国际海报展,此次展览的主题——水。
San Ignacio de Loyola University很高兴地邀请来自全世界所有设计师,设计学生,艺术家和视觉传播者参加第四届秘鲁YAKU国际海报展,此次展览主题:YAKU ( 在Quechua语里,为"水" 的意思)。该展览将在秘鲁首都——利马举行,通过这个展览与来自世界各地不同的设计师,设计学生,艺术家进行密切交流。
今年第四届秘鲁YAKU国际海报展是给所有平面设计师,设计学生,艺术家提供一个空间,任何平面设计师,设计学生,艺术家都可以在这个空间里对共同的问题表达自己的观点。展览目的是提醒我们每个人都去关注这个重要元素——水。
水是地球生物赖以存在的物质基础,水资源是维系地球生态环境可持续发展的首要条件。但是,水资源在我们这个地球上已经遭到严重破坏。全球变暖的温室效应,台风、酸雨频频侵袭,土地沙漠化,水资源严重污染。预计到2025年,世界上将会有30亿人面临缺水,40个国家和地区淡水严重不足。解决方案掌握在我们手中,我们有责任付诸实际行动,保护水资源。
参赛规则与条件
1:参赛者条件:
全球设计师,设计学生,艺术家和视觉传播者都可以参加这一国际展览赛事。
2:作品提交数量:不限。
3:参赛者必须表达他们对主题(水)的理解。他们可以从水资源缺乏,污染,浪费等角度去表达主题,但是必须牢记在作品中体现出我们需要不断增强这样的意识——即人类应该怎样对待这对于地球生命而言极其重要的资源。
4:所有海报尺寸必须是70厘米x 100厘米,横向或纵向。分辨率为200dpi和300dpi,JPEG格式(所有海报不符合以上要求,将不被接受)。照片必须是在良好的条件,避免任何模糊或扭曲。该技术是免费的,因为该海报的格式将是数字。
5:提交海报作品命名、保存文件格式如下*:
例如:NAME_SURNAME_01.JPG (名_姓_01.JPG)注:如果有一件,写01,如果有两件,写02,等等。
6:作品提交方式:将参赛作品和报名表请发送至yakuposter@gmail.com。报名表请在附件下载。
注意:在用电子邮件提交作品时,邮件主题框中填写"SUBMISION POSTER"字样。一旦我们收到参赛者的海报,我们将向参赛者发送确认通知。
7:作者应附上个人照片,尺寸大小6厘米x 8厘米,分辨率为300dpi
-提交的个人照片保存文件格式如下*:
例如:NAME_SURNAME.JPG (名_姓.JPG)
8:一个国际评审委员会将评选出最佳的120幅海报进行展览。从120幅海报中再评审出3个获奖者。
9: 作品入选120幅的参赛者将收到PDF格式参展证书,以电子邮件寄送,由San Ignacio de Loyola University颁发。三个获奖者将收到印刷证书和作品集,以普通信件寄送。
10:所有参加者将授权给San Ignacio de Loyola University,进行目录复制,展览等任何非营利的宣传活动。如果发表后,我们会署名作者。
11:组委会有权拒收在任何国家文化观点上进行道德攻击或有侮辱、辱骂信息的海报。
12:展览将在秘鲁首都——利马,展览时间:从2010年10月1日——2010年10月30日。
展览地点:Hall of RAUL PORRAS BARRENECHEA¨ in the ¨Centro Cultural Ricardo Palma¨ (Av. Larco 770, Miraflores).
13:参赛者提交作品时间:2010年3月5日——6月4日。
14:入选者名单将刊登或通过电子邮件通知,通知时间:2010年6月25日。
15:参赛费:免费
16:有任何问题或意见,请致函:yakuposter@gmail.com
国际评审团:
玻利维亚BOLIVIA - Susana Machicao
古巴CUBA Carlos Zamora
黎巴嫩LIEBANON Antoine Abi Aad
伊朗IRAN Hossein Abdolmohammadzadeh
伊朗IRAN Iraj Mirza Alikhani
伊朗IRAN Onish Aminelahi
意大利ITALY Sergio Olivotti
委内瑞拉VENEZUELA John Moore
秘鲁PERU Rita Vidal Chávarri
秘鲁PERU Rafael Vivanco Álvarez
附:报名表
更多设计竞赛情况,请登录视觉同盟设计竞赛频道
-----------------------------------------------------------------
英文版:
4th International Poster Exhibition – YAKU
The Art &Graphic Design career from the San Ignacio de Loyola University has the pleasure to invite all designers, plastic artists and visual communicators from all the five continents to participate in the fourth international poster exhibition named YAKU (which means ¨water¨ in quechua language). The exhibition will take place in the city of Lima, Peru, while establishing a close connection within all the diverse artists around the world.
The fourth international poster exhibition is the result of the extense effort from the Art & Graphic Design career to create a space where our students and every designer in the field can express their own point of view on a common issue. The exhibition tries to alert everyone about the problem our world is having in regards to this vital element, water. Every human being must be able to take conscience over our reality at hand and take a look t the extreme statistics. Something that seemed a silly prophecy has become a shocking reality that hunts us day by day.
Water has become a scars resource in our planet, known by us in its three basic forms; solid, liquid and gas. Due to global warming caused by humans, in the last years we have witness how mankind eliminates every possible source of water in massive amounts. Some zones have been affected directly by humans, later to have acid rain, hurricanes, typhoons, becoming the center cause of overflowing rivers, inundations and overwhelming destruction. The solution lies in our hands, us humans as rational thinkers, have the responsibility to revert the actual doing, one of destruction and devastation, into one of prosperity. There has to be a push towards positive progress, stepping into quick action and preserving this vital element. The solution has to come very fast, due to the current warnings by geologists, which say that by the year 2025, more than 2000 million people are going to have absolutely no water.
Even though this reality might seem fictional, the result from the overexploitation of resources has taken presence in many cities and countries across the globe. Their actions have become a clear example of the core problem. A clear example is Borneo, one of the four biggest islands in the world. Their biodiversity is about to vanish by the so-called ¨agricultural exportation¨, resulting in the decay of grounds all across and the quick death of an incredible array of plants. The natural biological life cycle finds itself being altered by external influences. Another candidate is the United States, more specifically, the surrounding south-east states. These states consume in a daily bases water from the Colorado River, that even though it might have an incredible size and very health water movement, it ends up almost dry when coming out into the Pacific Ocean. Many countries from Africa will have a severe drought, demanding that many people transfer to bigger cities to fill their primary necessities. Every city that finds itself close to a body of water will run the risk of being flooded due to the quick melting of the glaciers. Almost 40% of the world's population will be affected directly or indirectly by this happening. High-altering effects enclose the alteration of drinkable clean water and watering of fields, becoming a menace to the world′s ecosystem.
Right now, 20% of the world′s population consumes 80% of the world′s resources and nearly 5000 people die every year from polluted water, mainly affected by the mining industry. It is incredible the amount of water that is being used in this industry, without any care or consideration for its reuse. Something similar is happening in the countries surrounding the Persian Gulf, were they are using a mechanism of dis-alignment to process ocean water, becoming a viable solution in a short time. Experts say, that due to the recurring circulation of oil ships around the ocean, the process being used to fight contamination, might turn upside-down becoming a colossal problem in just eight years.
Everything mentioned follows many other investigations related to the topic at hand. Many organization are worried about what is going on in our world and where are we going to end up. The Business Graphic Design career consists of becoming a social visual communicator towards the world in front of us, finding it necessary to commence a solution. This assembly is a way of contributing with the solution, taking action, showing a reality that many choose to not see and opening the doors to conscience. The problem is one critical proportion, but we are in the right moment to switch reality.
RULES AND CONDITIONS
All local and foreign designers, artists and visual communicators are invited to participate in this international exhibition.
1. - There are no limits to the amount of proposals presented. There could be just an individual proposal or a series of them, making a series.
2. - Participants need to express their point of view on the main theme (WATER). They can touch topics such as scarcity, pollution, waste, etc, but always keeping in mind the need of rising awareness about what mankind doing with this vital element to earth′s life.
3. - All posters must be 70cm x 100cm, landscape or portrait. It should be between 200dpi and 300dpi, JPEG format (all posters that do not keep these conditions will not be accepted). Photos must be in good conditions, avoiding any blur or distortions. The techniques are free, given that the poster′s format will be digital.
4. - You must follow the example to save your poster file*:
Example: NAME_SURNAME_01.JPG
*If there is one piece, write 01 and if there are two pieces, write 02, and so on.
5. - When you save the PDF file, please attach the entry form found below. Fill the entry form and send it to yakuposter@gmail.com and write ¨SUBMISION POSTER¨ in the subject box. Once we receive the poster, we will send you a confirmation.
6. - The author(s) should attach a personal photo, size 6cm x 8cm, 300dpi and saved in JPEG with their name under it.
7. - An international jury will evaluate and select the best 120 posters. From the 120 posters selected, there will be three first place pieces.
8. - All selected participants will receive a diploma in PDF format, via e-mail certifying your participation. This will be given by The University of San Ignacio de Loyola, Art & Design Programme. The three first places will receive a printed diploma and the official book of the exhibition via standard mail.
9. - All participants will authorize the Art & Design Programme from The University of San Ignacio de Loyola to reproduce the posters submitted in any catalogues, exhibitions, advertising editions and electronic means, as well as in any non-profit advertising events. If published, we will give the respected authors credits when publishing it.
10. - The committee will reserve the right to refuse the participation of posters due to any morally offensive or insulting message related to any cultural views of any specific country.
11. - The exhibition will be in Lima, Perú, from October 1st, 2010 to October 30th, 2010. It will be at the ¨Hall of RAUL PORRAS BARRENECHEA¨ in the ¨Centro Cultural Ricardo Palma¨ (Av. Larco 770, Miraflores).

12. - We will receive any admissions from March 5th, 2010 until June 4th, 2010.
13. - The list of selected participants will be published through this page and by email, on June 25th, 2010.
14. - There is not a fee for participation.
15. - Any questions or comments please write to: yakuposter@gmail.com
JURY
BOLIVIA - Susana Machicao
CUBA Carlos Zamora
LIEBANON Antoine Abi Aad
IRAN Hossein Abdolmohammadzadeh
IRAN Iraj Mirza Alikhani
IRAN Onish Aminelahi
ITALY Sergio Olivotti
VENEZUELA John Moore
PERU Rita Vidal Chávarri
PERU Rafael Vivanco álvarez
(责任编辑: )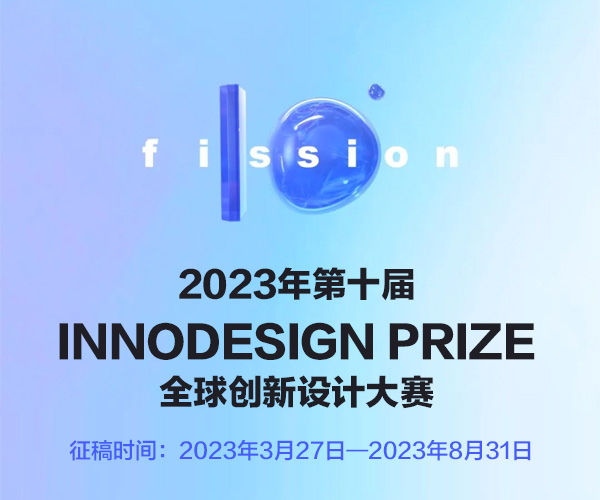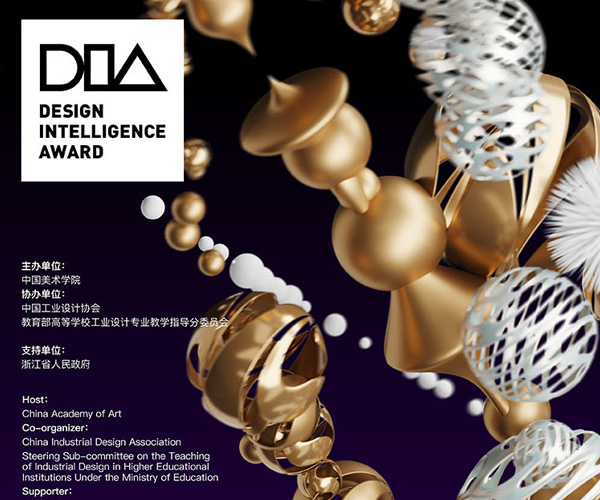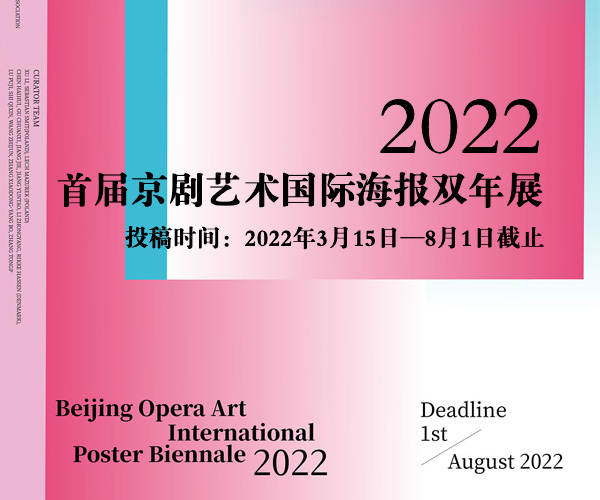 欢迎关注视觉同盟微信公众号:
微信公众平台:搜索"vudn2004"或扫描下面二维码: